The right trees in the right place provide shade, privacy, wildlife habitat and help prevent erosion. The wrong trees planted near powerlines can become a safety hazard to the local environment and property and may impact the reliability of your power supply.
To reduce or avoid the need for tree trimming and the potential for costly tree removals, we encourage landowners to plant responsibly – please plan before you plant.
When planting, follow these guidelines: Always plant a tree at least 15 metres away from powerlines or a distance equal to its mature height - whichever is greater.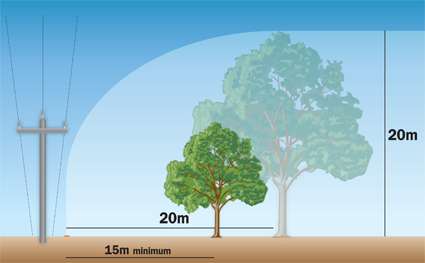 Look up before you plant
Consider how big the tree or vegetation will grow and what will be affected.
Plant taller varieties furthest away from the powerlines using the planting guide above.
Do not plant on streets without local council approval.
Remember that access to powerlines is required for maintenance and repairs in the future.
Select appropriate plant species that are native to the area.
Avoid plant species that could invade the surrounding environment.
Plant away from the underground pits, pillar boxes and padmount transformers so roots don't become a problem.
Tall growing species including the trees showing in our Unsuitable Trees Guide are unsuitable under or near powerlines
In some instances, a property owner may be responsible for the cost of managing tree trimming or removal of trees planted close to powerlines.
Download a copy of our comprehensive Plan Before You Plant guide.