The lands on which we work and live is country for 29 First Nations – from Wiljakali country on the plains of Far Western New South Wales (NSW), to Ngarigo country in the high Snowy Mountains and Bundjalung country on the sub-tropical North Coast, and more First Nations across the diverse landscape that is regional, rural and remote NSW and parts of southern Queensland.
We acknowledge the Traditional Custodians of the lands on which our company is located and where we conduct our business, and we acknowledge all Aboriginal and Torres Strait Islander peoples across Australia. We pay our respects to ancestors and Elders, past, present and emerging. We are committed to honouring Aboriginal and Torres Strait Islander peoples' unique cultural and spiritual relationships to the land, waters and seas and their rich contribution to society.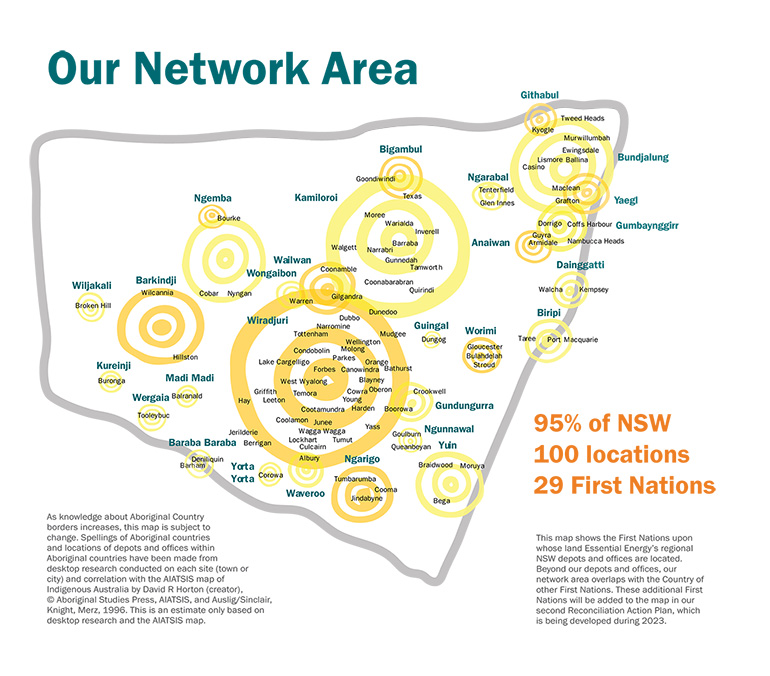 Indigenous Essential Energy logo
The Indigenous logo, created by Michael Lambeth, Gulibal Man from the Bundjalung Nation and Essential Energy powerline worker, represents "working together from area to area, protecting the land and each other".