Essential Energy's vision is to empower communities to share and use energy for a better tomorrow. To do that, we must be (and are) an enabler for economic activity in regional NSW. Every dollar we invest is a dollar that enables that community and our customers to thrive.
Underpinning our vision is a clear purpose – to enable energy solutions that improve life – which highlights the role we play as a regional economic enabler both through our investments and our role as an essential service provider.
The Corporate Strategy, which we refreshed as part of an annual review process in March 2020, provides clear goals to address current and future objectives for the business. It also plays a crucial part in maintaining downward pressure on the network charges we apply to the electricity bills of our 865,000 customers.
The majority of benefits of the strategy are directly related to transforming our core business (Pillar 1 of the strategy). This involves a primary focus on improving safety outcomes; as well as placing the customer at the core of everything we do and adopting a risk-based, value-driven approach to how we manage our assets, operations and corporate services. We're uplifting our capabilities when it comes to our people, data and processes and utilising innovation and technology to become increasingly efficient and effective while maintaining reliability.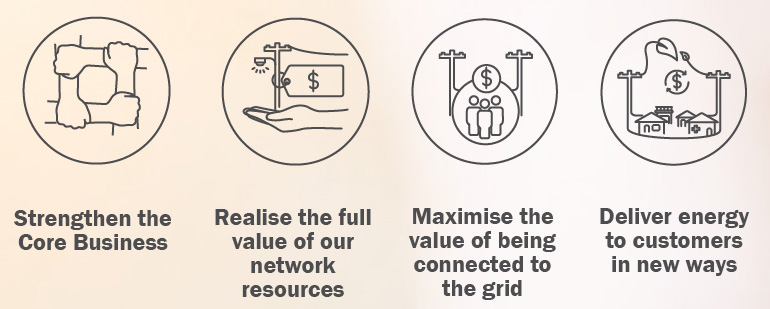 The following video outlines our corporate strategy and goals, and if you would like any further information you can call us on 132391.