As we become an energy company for the future, we continue to make our business environmentally, economically, and socially sustainable.
Our Sustainability Strategy guides us in generating positive value for stakeholders including our customers, our community, and our people. We are committed to supporting the industry and our communities in the transition to a net zero economy, while continuing to provide customers with accessible, reliable, and resilient energy.
In late 2021 we developed our first Sustainability Strategy, to guide us in generating positive value for all stakeholders and in addressing our most pressing sustainability issues.
Our sustainability strategy builds on our strong foundation of existing sustainability-related activities, and leverages key sustainability themes in the Corporate Strategy
increasing network resilience and reliability
renewable energy uptake
facilitating electric vehicle (EV) adoption
Our three sustainability pillars and eight commitments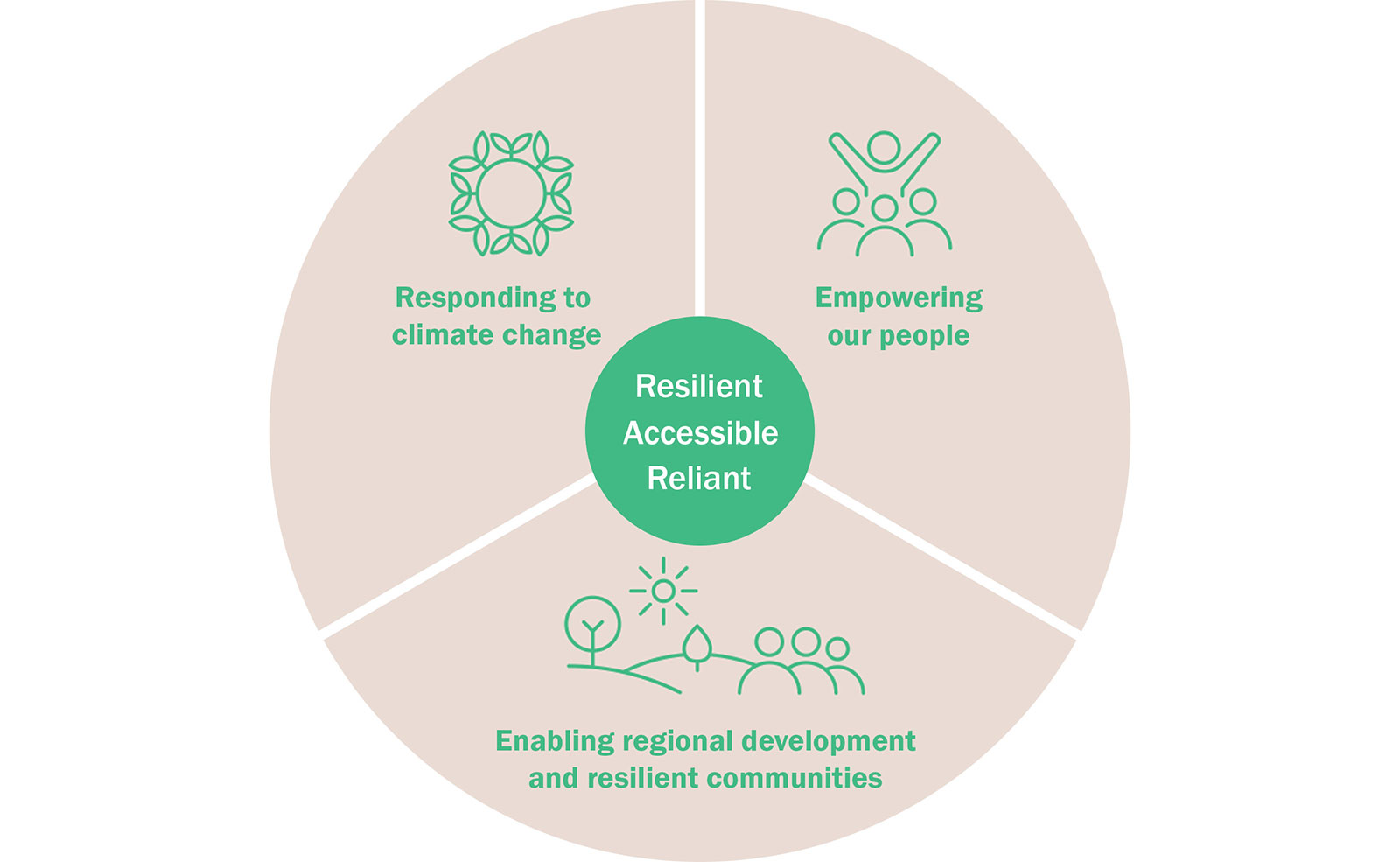 Responding to climate change
Building climate resilience and partnering to minimise disruptions during crisis
By future-proofing assets, providing our customers with alternate energy solutions and responding to climate events
Facilitating the net zero transition
By supporting electrification, including electric vehicle penetration and scaling and optimising network connections
Decarbonising our operations
By electrifying our fleet, leveraging renewables and actively managing line losses in the way we build, operate and maintain the network
Empowering our people
Ensuring the safety and wellbeing of employees
Through our health and wellbeing program and leading health and safety standards
Championing an inclusive, supportive and growth-oriented culture
By promoting our values and building a diverse and accountable workplace
Enabling regional development and resilient communities
Assisting regional business and communities
Through partnerships, advocacy, engagement and tech-enabled solutions, to provide reliable and efficient connections
Ensuring sustainable and resilient supply chains
By responding to social and environmental vulnerabilities in our supply chains and integrating sustainability into our procurement decisions
Protecting cultural heritage
Through engagement with Aboriginal and Torres Strait Islander groups, guardians and landowners and managing risks in culturally significant areas
Sustainability governance
The Essential Energy Board has ultimate accountability and oversight of the Sustainability Strategy. The Executive has accountability for specific commitments within the strategy, supported by a Sustainability Steering Committee and Sustainability Working Group. The sustainability function works with business areas to champion sustainability-related issues and opportunities, drive performance, and transparent reporting – to deliver the ambitions identified in the strategy. To find out more about Essential Energy's governance visit the Corporate Governance page.