Our physical assets and infrastructure, as well as the communities we serve, are exposed to the impacts of climate change.
Given this, our responsibilities include ensuring our network remains resilient and assisting communities in regional NSW to remain resilient, particularly those most vulnerable to climate change.
We also have opportunities to contribute to limiting climate change, by helping to decarbonise our operations and the energy and transport industries.
We commenced modelling and scenario analysis of climate change impacts on our network and communities, identified key risks, and continue to adjust our operations to improve our resilience.
We currently report to the Task Force on Climate-related Financial Disclosures (TCFD). We will continue to collaborate with partners to develop and trial new technologies and processes to support the net zero transition.
Facilitating the net zero transition
Supporting the increasing demand for renewable energy sources to connect to our network is key to our efforts to facilitate the net zero transition.
Growth in connections has been dramatic over the past decade. In total, renewables delivered almost 28 per cent of total network load – continuing the year-on-year growth over the past decade (figure 1).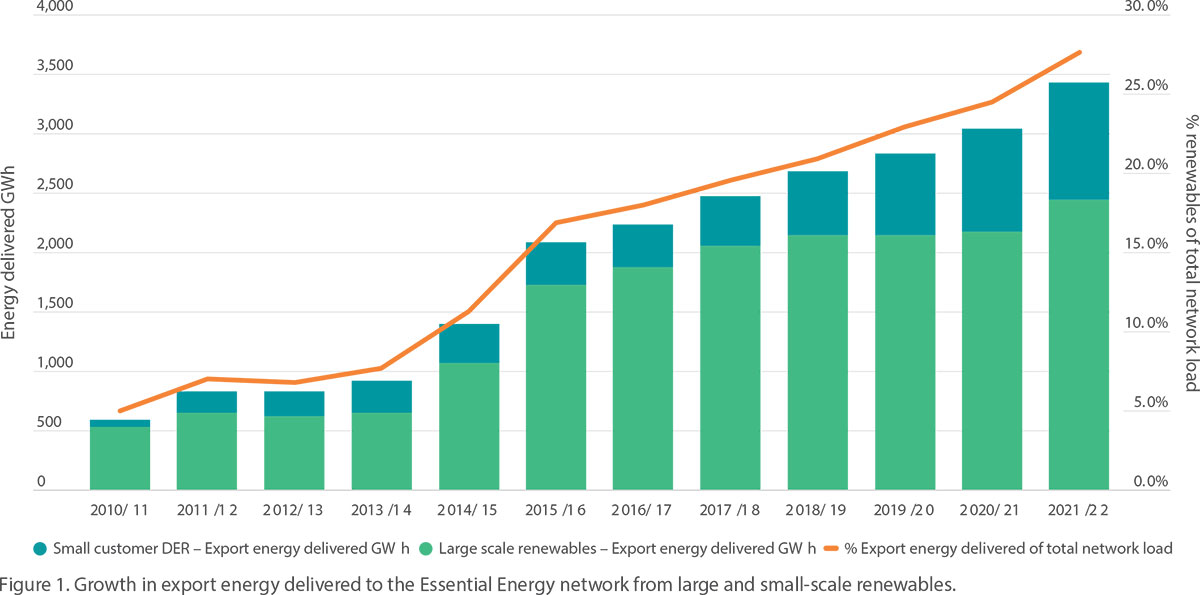 For the first time, installed capacity from renewables exceeded maximum network demand. However, peak demand typically occurs after the sun goes down, which means solar generation does not match the energy demand peak during any 24-hour period.
The opportunity for us and other network operators is to maximise the capacity for the network to import renewable energy from large and small-scale distributed resources. We invest in developing a range of approaches to take up this opportunity, including smarter network management and providing customers with alternate renewable energy solutions.
Building climate resilience
Providing customers with alternate renewable energy solutions.


Stand-alone power systems (SAPS) provide an alternative means of delivering safe, reliable and renewable power to remote and fringe-of-grid customers.
To realise the full value of this alternative approach, we have been working to trial and better understand a diverse fleet of SAPS solutions.
In June 2022, we were the first in Australia to deploy a fully-renewable Hydrogen SAPS, which uses a combination of solar panels and liquified Hydrogen to provide reliable power.
At a larger scale, microgrids (community-scale energy systems) can provide more local resilience, supporting customers during the event of outages or network reliability events. Microgrids link individual solar systems, large-scale solar farms and community storage.
The Southcoast Microgrid Reliability Feasibility Program (SμRF) is researching the impact of microgrids on community attitudes, power reliability and network resilience, with Australian Government funding support. Find out more about SμRF.
We also work with NSW Farmers and the Queensland Farmers Federation on microgrid feasibility studies.
Network-scale batteries is another technology being developed to assist with decarbonising local energy systems. They provide an alternative for managing evolving network conditions, as the market increasingly moves to connected renewables, rather than investing in potentially higher-cost new network infrastructure.
Decarbonising our operations
Reducing our greenhouse gas emissions
We are currently working on decarbonisation projects to reduce our greenhouse gas emissions.
We are developing targets to manage climate-related opportunities and risks. We are completing a baseline measurement of Scope 3 greenhouse gas emissions and developing a decarbonisation pathway that includes strategies to address Scope 1, 2 and 3 emissions.
Electrifying our vehicles
We are currently shifting our passenger vehicles to electrified options when vehicles are due for replacement.
It will be some time before electrified options for commercial light and heavy vehicles meet our mass, distance and availability requirements. In the interim, we are developing and testing electrified concepts specific to the needs of our fleet.
Replacing all streetlights with energy-efficient LED lamps
During 2021-22 we worked with 86 local government councils across our network area to upgrade streetlights to more energy-efficient and cost-efficient LED lights.
We have replaced more than 142,000 lights and remain on schedule to replace all 165,000 lights by the end of 2022-23.
To prevent waste from going to landfill we negotiated an agreement with our LED installation contractor to separate redundant lamps from light heads and send 100 per cent of these components for recycling.
Repurposing and recycling waste materials
2,660 tonnes of waste materials from our operations were recycled in 2021-22; which was 35% of our total waste volume.
Machinery and equipment no longer required, from iPhones to fleet machinery, were sold as second-hand items at auctions.
Excess items were also provided to charity organisations. Uniting and the NSW Department of Education identified students who would most benefit from the devices. Aboriginal community support organisation Kari and Dubbo Opportunity Hub donated SIM cards and internet credit.
Related information: