Our Pre-Employment Traineeship Program focuses on providing opportunities for Aboriginal and Torres Strait Islander men and women to join the energy industry.
As a trainee you will undertake a 12-month training program, which provides an introduction to the electricity industry. You will learn what it takes to build and maintain the poles and wires that deliver electricity to our customers.
Through a combination of formal and on-the-job training, you will learn electrical skills and knowledge, along with development in the areas of literacy and numeracy and workplace experiences.
Upon successful completion of the program, you will be offered the opportunity to progress into a full trade qualification as an Apprentice Powerline Worker.
Skills you will acquire
correct use of power tools
construction skills in overhead power systems
practical skills in plant operation, including for elevated work platforms
manual skills in using hand tools
electrical theory and how electrical system components work
Applying for a traineeship
Applications are now open for our 2023 Pre-Employment Traineeship Program and will remain open until 24 July. Trainees will commence in early 2023.
It is a preference that successful applicants hold a driver's licence, as you are required to drive to training locations.
Information sessions
To find out more about the 2023 Apprentice and Trainee programs, register to attend one of the below 'Ask Us Anything' sessions. You will hear from our field operations leaders and current apprentices, and be able to ask questions.
Tom's story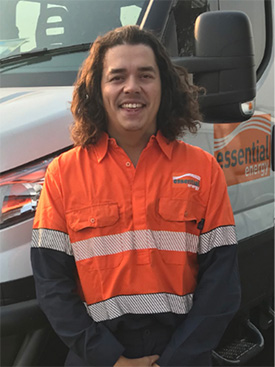 Tom Hammond, a Kamilaroi man, joined Essential Energy in 2017 as a participant on the Pre-Employment Program and successfully transitioned into the Apprentice Program in 2018. He completed his apprenticeship in 2022 and is now a fully qualified Powerline Worker.
Tom heard about the job opportunity through his involvement with the Clontarf Foundation during school.
"Clontarf told me Essential Energy were looking for people for their new Pre-Employment Program so I thought I would apply. I have gained so many skills during my time with Essential Energy which I can use both inside and outside of work. It is a good place to work with good people who really look after you."