Safety news

Every day before 10.00am, Essential Energy fleet vehicles travel the equivalent of driving around the earth's circumference. With their people driving 40 million kilometres every year, on and off road and in all weather to the furthest reaches of the network to conduct the essential assessment, repair and building works to keep a safe and reliable power network for the communities in which they live and work, driving is one of the organisation's greatest safety risks.
With powerlines and power poles spanning the width and breadth of NSW and parts of southern Queensland, it is not always possible to rely on consistent mobile coverage. For example, during the bushfires in 2021, crews had to return to their home depot prior to ending the workday so they could be safely accounted for, adding extra driving time and reducing the time available to spend in the field.
Identifying this risk and time burden led to the transformative initiative to install In Vehicle Monitoring Systems in all Essential Energy vehicles. As well as keeping employees in touch and visible, even when out of mobile range, the system provides other significant benefits. If a collision or rollover occurs, the IVMS triggers a duress alert, which can also be manually activated. The data collected by the system will improve employees' fatigue management and provide better fleet asset lifecycle management opportunities.
The installation was completed just 11 months after commencing, on time and under budget, despite new challenges mid-project to deliver the project within COVID-19 operating protocols.
Chief Executive Officer, John Cleland commented, "Safety is at the heart of everything we do, and keeping our staff and members of the public safe is paramount. Our people's dedication and commitment to be open to the IVMS program was a credit to them. It took a lot of effort, a lot of briefings, a lot of online learning, and ironically, a lot of travel to achieve but to see completed is a testament to everyone's efforts."
The investment has already paid off for one member of the community. In October 2020, an Essential Energy employee came across a woman trapped in her car which had driven off a bridge. With no mobile coverage in the remote location, the employee used the duress button to contact the Control Room, who sent emergency authorities who arrived shortly afterwards to help the woman to safety.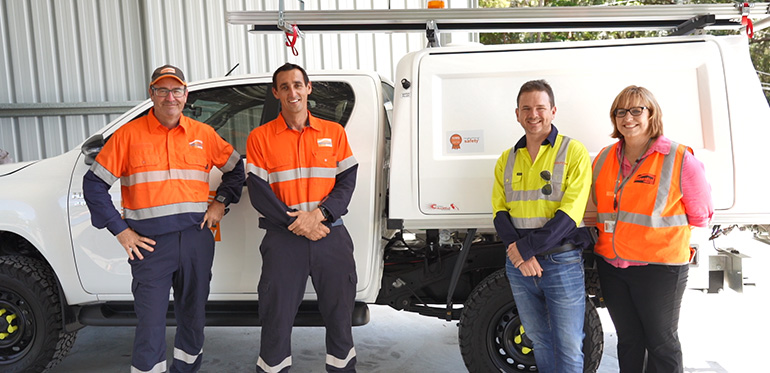 Michael Mills, Chris Dhu, Sean O'Brien and Lisa Maestri (L to R) stand with the final vehicle to receive the IVMS