Safety news

Digitising risk assessment
Our field crew is responsible for keeping the lights on 24/7 in a network dispersed over more than 737,000 square kms with geographies ranging from snowfields to rainforests and deserts; working in a range of weather conditions and extremes; alone or with multi-person crews. Coupled with the high-risk nature of their roles, it's understandable that safety is at the heart of everything we do.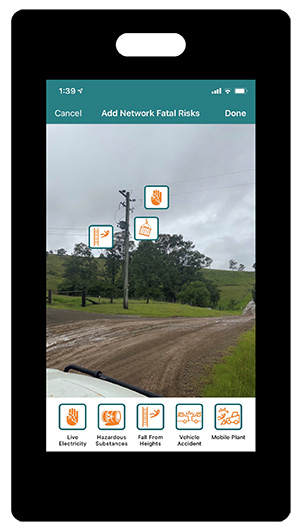 Safety processes have been defined and refined over our entire operational lifetime. One critical process is the on-site Hazard Identification Risk Assessment Control (HIRAC) – a key requirement for our teams and an integral component of our Corporate Safety System. The HIRAC ensures individuals and teams identify all associated site risks and implement appropriate controls.
Until recently, completing the HIRAC meant filling out one of twelve paper forms, depending on the task at hand, and involved field crews having to address up to 200 tick boxes on any given form. HIRACs were completed in a large book that was carried around in work vehicles and stored in dozens of filing cabinets across our depots.
As part of the company-wide transformation program; leaders and end users both identified that re-designing the HIRAC presented an opportunity to improve processes and safety engagement.
An internal team reimagined the HIRAC into an interactive, engaging and paperless tool that is completed on the crews' electronic devices and empowers field crews to hold more collaborative team conversations and complete better quality onsite safety risk assessments on every worksite.
Designed and developed fully in-house, the intuitive format leverages the benefits of mobile technology and allows our field crews to drag-and-drop identified risks, add images and use talk-to-text functionality.
In addition, it's providing the business real-time data, increasing efficiency and opportunities for safety coaching, and providing leading indicators around safety trends and site conditions.
The HIRAC is accessed via the Field Portal, an internal mobile app whose design approach is 'by the field, for the field'. The in-house field portal team brings expertise from across the business, with most of the team coming from field-based positions who trained initially as powerline workers and other electrical roles.
During the tool's pilot phase, significant consultation and communication occurred with representatives from all user groups. The team built a real-time feedback mechanism within the digital HIRAC tool, allowing users to rate their experience. Several enhancements were implemented based on this feedback.
This user experience rating is still being used, and the current average user rating is 4.2 out of 5 stars.
Most importantly, the digital HIRAC has transformed how we view safety in the field both before and during the job and helps our business obtain live insights from our teams around safety risks, trends and feedback. A win all round.