Our people news

The recent devastating flooding across the Northern parts of NSW brought memories rushing back for Essential Energy powerline workers Will Grey and Dean Hancock.
On Tuesday 21 April in 2015, they were working throughout the night trying to make the network safe, dealing with broken power poles, fallen powerlines and trees crashing into lines. Thousands of residents had lost power from the cyclonic winds caused by a destructive East Coast Low.
What would later be determined to be a one-in-500 year event, the Mill Creek near the Stroud Showground flooded to record levels, with floodwaters reported to rise 30 cm in a few seconds*. That night, the Stroud Showground was housing a number of people camping, including an elderly couple.
Will and Dean, who work together at the Stroud depot, were working in the extreme weather conditions patrolling for fallen powerlines and other damage. In the pre-dawn, they used all their skills and training to secure a man trapped on the roof of his car, the men then waded through waist deep water to place a ladder on the roof of the car and allow the man to climb to safety.
As dawn was breaking, they found themselves working with local emergency services and residents to rescue an elderly couple who had been swept away from their caravan. Locating a boat, Dean led the rescue team to the distressed couple. While Dean battled to keep the boat secure in the raging water, Will and other rescuers managed to reach the couple and Will kept the woman's head above waters while they got her aboard. Once she was taken for medical treatment, Will and Dean then rescued the woman's husband, bringing him to safety.
Will Grey, Live Line Powerline Worker of 31 years' experience said, "We certainly didn't expect to be caught up in that situation when we went to work that night. I guess when someone is in trouble adrenaline kicks in, and you do whatever you can to help. It's amazing to think back and reflect on how we played a part in saving lives."
Dean, who's a Dual Qualified powerline worker and has worked with Essential Energy for seventeen years, revealed that after the dramatic events of that night, they didn't get to reflect on the scale of what they'd done for another week - the scale of the network damage meant they were kept busy restoring power to residents in Stroud and surrounding areas.
When they finally did get to catch up with the other three rescuers and relived what had happened and what could have happened, the common theme was how cold the water was. Dean said, "The one thing that we all brought up at some stage in our catch-up was how ice cold the water was that morning, it was as close to freezing as you could get."
This February, Dean, Will and the other rescuers received Australia's third highest bravery award, the Bravery Medal, from the Governor of NSW after being nominated for the award by their local MP.
Speaking of the special day, Dean said, "The award ceremony last month was definitely something myself and my family will never forget. It was an amazing experience, and I was honoured to receive the award and share the experience with family and friends."
Will continued, "You don't think about awards when faced with those challenges, but it was an honour to be recognised and as Dean said, it was a great ceremony and a good chance to catch up with the other rescuers."
Congratulations to both Will, Dean and all the recipients of the Bravery Medals this year.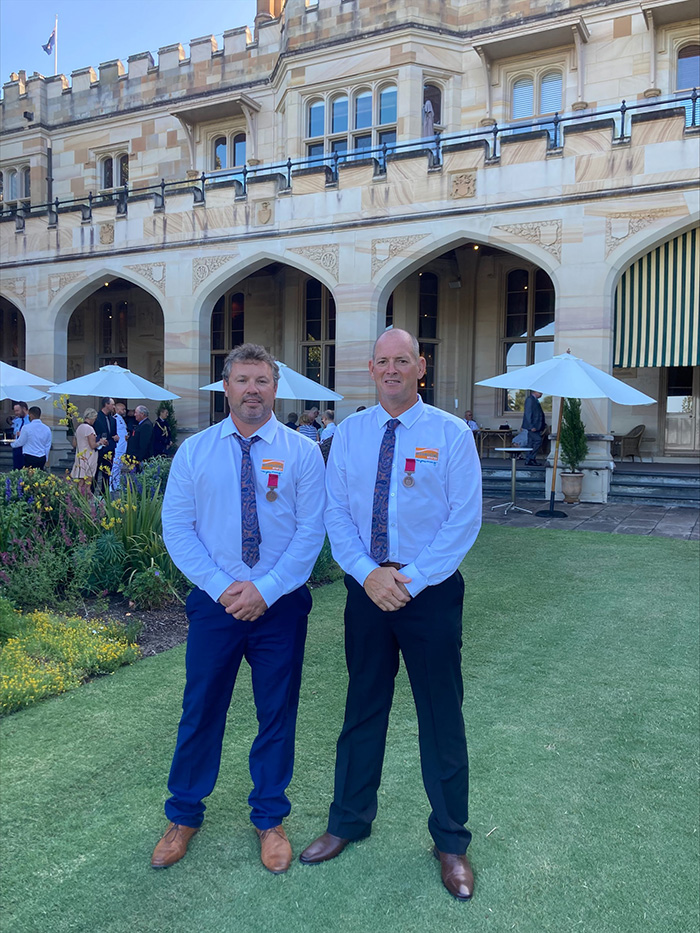 Will Grey and Dean Hancock proudly wear their Bravery Medals in the grounds of Government House after the ceremony in February 2022.
*Source: Yeo, Stephen & Crompton, Ryan. (2015). Camping Grounds and Flood Risk – Reflecting on the Stroud, NSW, Flood of 21 April 2015. Risk Frontiers Briefing Note. 291.