Our people news

100 years and standing strong
Former and current Essential Energy staff who were instrumental in preserving the first power pole erected in Orange were recently honoured at a commemorative ceremony in the town.
The 45-foot high (13.71m) pole came from Telegraph Point on the Mid North Coast and was stood with the assistance of the Mayor of Orange, on 8th January 1923. It was originally used as a streetlight, the first of many to replace the gas lighting that lit the streets of Orange and, at the time, represented the pinnacle of evolution of technology and innovation in the energy sector.
Past and present employees from Essential Energy and its predecessor organisations were present when Orange's Deputy Mayor, Mr Gerald Power and Essential Energy's Chief Executive Officer, John Cleland unveiled an historical sign, with members of the Orange City Council (OCC) and the Orange Historical Society also in attendance. The sign pays tribute to the pole's crucial role in providing street lighting and reliable energy to the community.
John Cleland, Essential Energy CEO said, "Following more than 40 years of gas-powered street lighting, the 1920's saw the Council move to locally generated electricity, resulting in the first light pole being stood.
"This pole has witnessed 100 years of history. When it was stood in 1923, the electricity was generated locally. Over the decades, we have seen the move to centrally located generation and now this pole is bearing witness to another energy transformation where more renewables will generate power locally," said John.
The former employees represented teams from 100 years of Essential Energy predecessor organisations, namely Orange Council, Ophir County Council, Ophir Electricity, Midstate Energy, Advance Energy, and Country Energy.
Roy Buss, who advocated to save the pole in the 1980s, was incredulous at the fanfare, saying "To see it here today and the turnout, it's just fantastic."
John Cleland concluded, "I am confident this historic power pole will continue to stand beyond its 100th year thanks to the ongoing care and maintenance by our local teams and continuing commitment from the Orange City Council and Historical Society."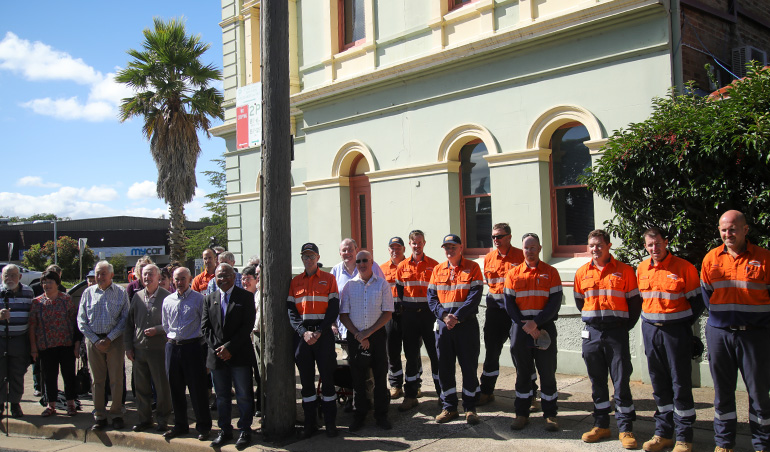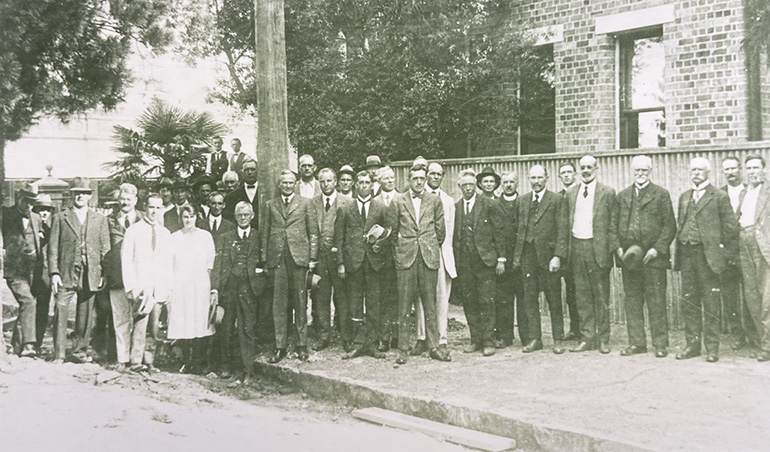 Recreating the past: attendees at the celebration recreated the original photo taken in 1923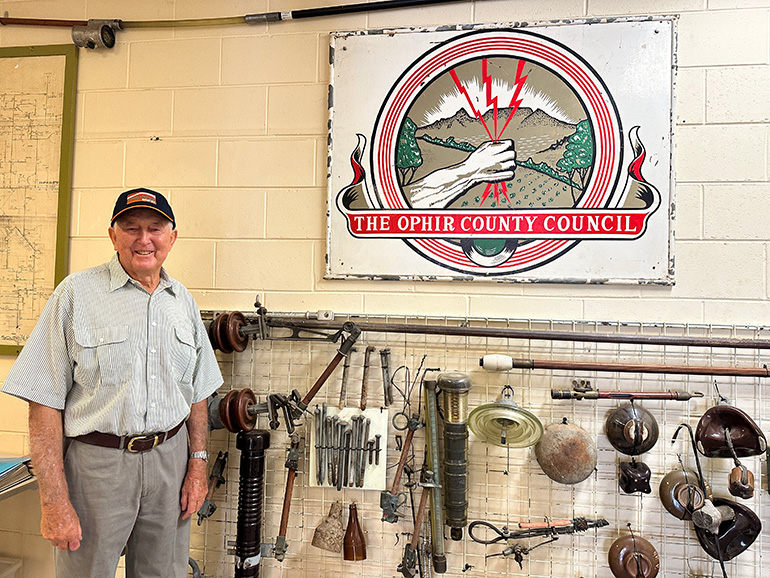 Former employee, Roy Buss in front of Ophir County Council artefacts