Genex Power develops and operates large-scale solar, wind and hydro-electricity generation and storage facilities in Queensland and New South Wales. Their first project in New South Wales is the 50MW Jemalong Solar Project, located just over five hours west of Sydney in the Central West.
Surrounded by wheat and sheep farms and a historical gold town, the semi-arid landscape is ideal for the project. Currently undergoing commissioning, the 152,000 solar panels will track the sun between +/- 60 degrees, generating sufficient power for 23,000 homes and offsetting 104,000 tonnes of CO2 each year. Located within Jemalong Station, sheep will continue to graze around the infrastructure to maintain the local ground cover. Like Essential Energy, Genex is committed to the local communities in which they work. Construction is now largely complete and provided employment for 150 workers and engaged 28 local businesses over the 12 month construction period.
Genex and Essential Energy worked together to finalise a 5km-long 66kV overhead powerline to connect the PV Plant substation to the existing West Jemalong Essential Energy substation. The process for Genex CEO James Harding was enabled by recent improvements in Essential Energy's large connection approach.
"Essential Energy has been very willing to assist in finding solutions to issues arising during construction and commissioning and assisting the project in gaining approvals from AEMO. Our contacts there have provided prompt responses to submissions and queries," said Mr Harding.
"We've appreciated direct access to decision makers, and clear communication on expected deliverable dates. We continue to work with Essential Energy to build a better understanding of processes and requirements at the project outset so that timelines and expectations can be set with all parties involved."
For Genex, and other large organisations looking to connect to the Essential Energy network, an efficient working relationship helps reduce delays and re-design. Mr Harding continued "The biggest risk involved in the delivery of solar and storage projects is that of delays with respect to grid connection and grid compliance. Being able to navigate the stage gates and plan project delivery is critical. Open and goal aligned communication is key to this."
Essential Energy's David Salisbury revealed that a customer-centric approach to new connections had identified key areas for improving the process and drive economic enablement within the organisation's footprint.
"In effect, we reviewed our process to ensure every step adds value and is consistent with industry best practice. We want to make it as easy as possible for these large-scale customers to connect to our network quickly while ensuring that we can continue to provide safe, reliable power for the whole community." said Mr Salisbury.
"We're not completely there but we feel we've come a long way. Having a single point of entry for customer-initiated major connections has started us down the road of positive industry engagement. Better customer understanding allows us to advocate our customers' needs while still representing our organisational requirements. We play an integral part in helping our regional economy grow and have a strong commercial mindset in helping customers deliver their projects successfully."
The strong relationship with customers such as Genex facilitates honest and transparent feedback. "We can ask the hard questions and know that groups like Genex, will tell us what we're doing well and help us continuously improve," concluded Mr Salisbury.
West Jemalong Fast Facts
The Jemalong Solar Farm, connecting to the Essential Energy West Jemalong Zone Substation is made up of:
Just over 150,000 photovoltaic solar modules
single-axis tracking module framing system mounted on 20,796 steel piles
10 containerised power conversion units each with two inverters
a substation containing transformers, associated switchgear and control and protection equipment; and
a 66kV transmission line (approximately 5km long) connecting the onsite substation to the existing Essential Energy West Jemalong substation.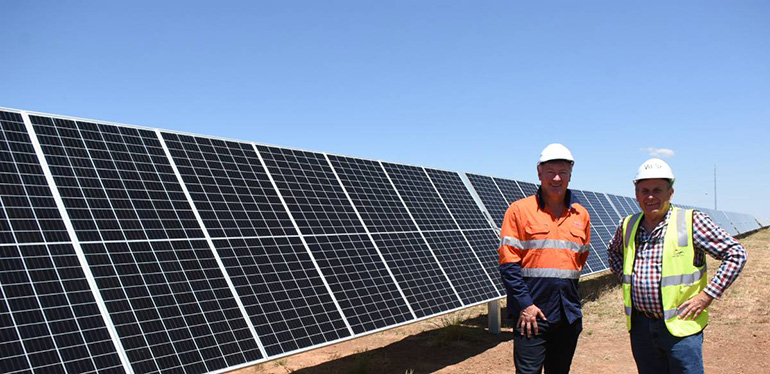 Simon Kidston, Genex Director (left) and Cr Chris Roylance from Forbes Council (right) photographed recently at the Jemalong Solar Plant