February this year saw 52 new apprentices, trainees and graduates commence their careers with Essential Energy. This year's intake is part of Essential Energy's ongoing investment into the future workforce of the business and brings the total number of apprentices currently employed in the business to 152.
Since 2003, more than 1200 apprentices have graduated the award-winning program, with an enviable 93% completion rate, 90% remaining in the business after qualifying and 25% being promoted into higher level roles.
As well as creating new job opportunities in regional areas, Essential Energy's apprenticeships further benefit NSW by generating additional economic activity in the local communities and help build skilled capability right across the State.
Essential Energy Chief Executive Officer John Cleland said the Apprenticeship Program is central to maintaining a highly skilled workforce across regional NSW that reflects the communities served by the business."Our apprentices are part of the communities in which they live and work – training to be skilled and adaptable workers in the rapidly evolving energy industry, to help build and maintain the poles and wires that empower regional NSW," he said.
The 26 Powerline Workers and three Zone Substation Electrical Technicians have already started their four-year program which combines formal training with on-the-job experience, covering all aspects of operating a modern electricity network. The Asset Inspector Trainee program enters its third year with eight trainees also commencing a 12-month training program with the business. Pleasingly, all trainees from last year's program have successfully moved into permanent Asset Inspection roles this year.
In addition, Essential Energy's Indigenous Pre-Employment Program – which continues to provide a career pathway for Aboriginal and Torres Strait Islander men and women into the business - has also recruited five Field Operations Trainees.
Also starting their career following their undergraduate studies are three engineering and one information technology graduate. Civil Engineering graduate Afreen Hussain said, "The Graduate Program has given me the opportunity to grow and learn in a supportive environment. There is constant change and drive to improve in the organisation, which encourages you to achieve and excel as you play a role in shaping the future."
The apprentices, trainees and graduates will be based in throughout the network footprint and come from a diverse range of backgrounds. Mr Cleland said, "It's heartening to see our business attracting a diverse group of people and we're especially proud to welcome our new Aboriginal and Torres Strait Islander peoples and female employees to the organisation."
In 2019, Essential Energy won the Australian Apprentice Program of the Year.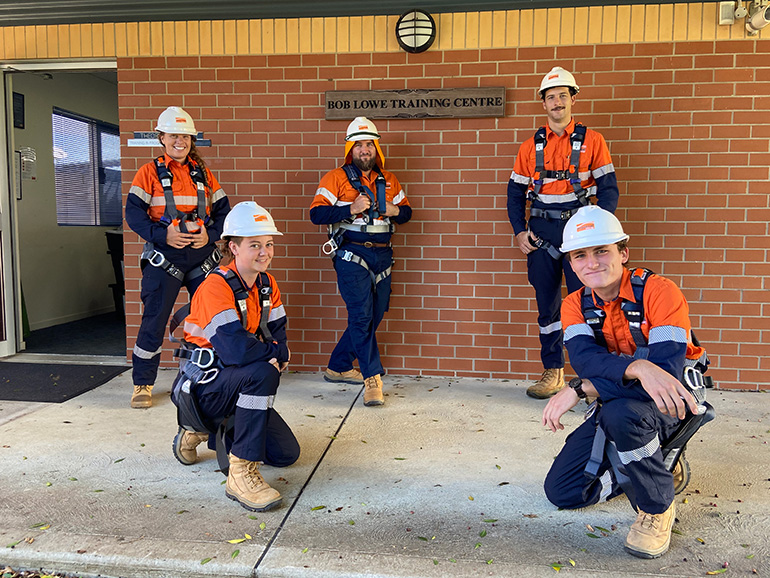 A few of our new employees ready for an energetic future