Essential Energy delivers reliable, safe and efficient energy solutions that meet our customers' changing needs. For customers located at the end of remote powerlines, Stand Alone Power Systems (SAPS) are an innovative and cost-effective way to ensure reliable and safe electricity supply. For suitable properties, Essential Energy will install, maintain and operate these systems at no additional charge.
What is a Stand Alone Power System?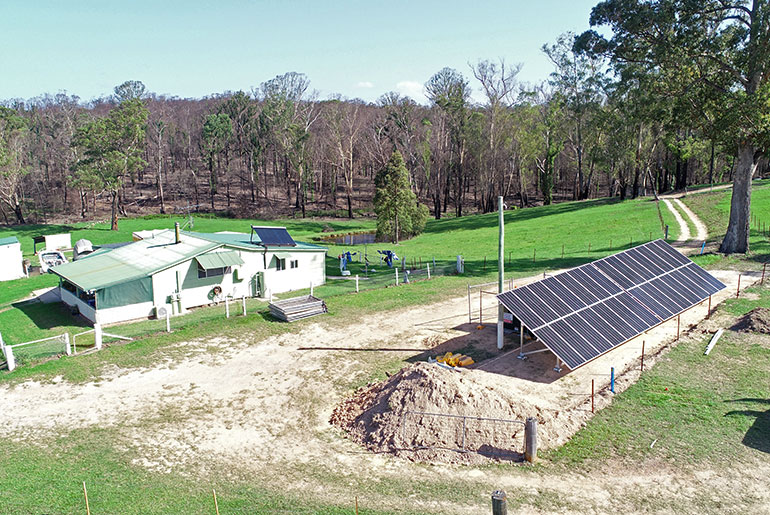 A Stand Alone Power System is an independent power supply which includes solar panels, a battery for energy storage and a back-up diesel generator. It operates independently from the electricity network of poles and wires and can be used to power homes or other types of accommodation, sheds, workshops and offices.
Benefits of a Stand Alone Power System
These independent power systems:
Deliver more reliable power to customers located at the end of long, remote powerlines
Provide clean and sustainable energy via a system owned, operated and maintained by Essential Energy in the same way that we manage the current poles and wires
Reduce outages caused by powerline maintenance, weather, wildlife and vehicle impacts
Improve safety through removal of hazards that can be caused by poles and wires
Improve resilience during natural disasters – on-site electricity generation removes the need to rely on infrastructure that could be affected by natural disasters
Reduce environmental impact – there is no need to access and maintain long corridors of vegetation around poles and wires
Offer flexibility and scalability – the modular design can be adapted to suit different situations, locations and changing needs
May in future, deliver customers a reduction in electricity charges through a discount on generation costs within their electricity bill.
How does a Stand Alone Power System work?

The solar panels generate electricity during daylight hours
Solar energy collected is used to power your premises and charge the battery
The battery provides power at night or when it is overcast for long periods of time
A diesel generator provides back-up supply to the system.
When is a Stand Alone Power System installed?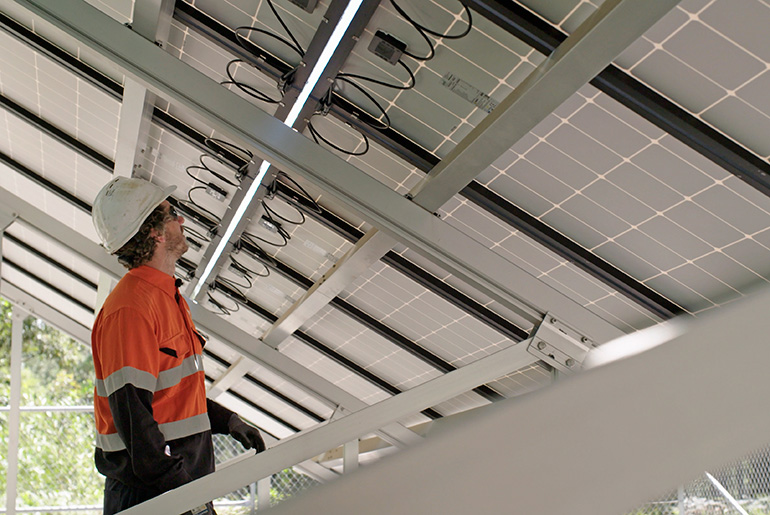 We're installing Stand Alone Power Systems in locations where they can increase power supply reliability and resilience and reduce operating costs for existing customers
Stand Alone Power Systems are an ideal solution for properties in remote locations at the end of long powerlines, in areas prone to natural disasters and in densely vegetated or difficult to access areas
Stand Alone Power Systems installed by Essential Energy are owned, operated and maintained by us, in the same way that we manage the current poles and wires – with continued 24/7 access to support
After a successful Stand Alone Power System implementation, powerlines will be removed.
Why is Essential Energy installing SAPS?
Independent power systems are often a more cost-efficient, reliable and safe alternative to network power supply in remote areas with very few customers, or in difficult-to-access, flood or bushfire-prone locations.

Once installed, we will remove the unused poles and wires to minimise any risk of a network-initiated bushfire. This also lowers our network maintenance costs, driving down the cost of electricity for all our customers.
Where is Essential Energy installing SAPS?
We're currently offering SAPS to some existing customers at the end of very long powerlines in remote locations – for example, where a 4km-long powerline supplies one property. We're also assessing SAPS options for existing customers in densely vegetated, flood and bushfire-prone areas.
Can I ask to have a SAPS installed on my property?
Currently, we will only install SAPS in specific remote, difficult to access or natural disaster-prone locations where onsite electricity generation and distribution will deliver operational efficiencies for all our customers.

If you think your location is potentially suitable, you can submit an email request for SAPS assessment via SAPS@essentialenergy.com.au.

If your circumstances don't meet our criteria, you still have the option to explore your own private SAPS installation.
Further information
Download our Stand Alone Power Systems (SAPS) Flyer PDF
Stand Alone Power Systems (SAPS) FAQs
Stand Alone Power Systems (SAPS) Customer and Stakeholder Engagement PDF
Industry Engagement Document - Non-network and Stand-Alone Power System Solutions - CECG5064