Closing date extended! Entries close Friday 23 October!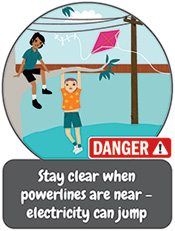 Years 4 to 6 students across Essential Energy's network are invited to showcase their filmmaking or advertising flair in a 30-second video OR radio ad that highlights one or more important electricity safety messages.
There will be one major prize awarded and one runner up prize:
The winning video or radio ad will receive $1,000 for their school's Parents & Citizens Association to be used on a safety improvement for the school and the student(s) whose entry wins also receives a Tobbie the Robot valued at $69.95 (inc. GST, maximum of three students per team)
A highly commended prize will also be awarded to the runner up student(s). Prize consists of a 4M - KidzRobotix - Doodling Robot valued at $33.95 (inc. GST) for each student in the team (maximum of three students per team)
Entries will be judged on creativity and effectiveness of conveying one or more electricity safety messages.
1. Simply have your students select one or more of the following safety messages:
Stay clear when powerlines are near – electricity can jump
Stay safe and at least 8 metres away from fallen powerlines
Electrical appliances can bite, if they're not used right
If you feel a shock or a tingle from a tap or an electrical appliance, tell an adult to report it immediately
Keep away from electrical equipment and enclosures – leave it to the experts!
2. Read full terms and conditions here
Entries should be submitted by school staff on behalf of the student(s).
Students/teams can enter as groups or individuals on behalf of their school, however there can be no more than THREE members in each team.
There can be multiple entries per school but each entry must be unique and submitted separately.
No copyrighted materials can be included (i.e. music).
Each video entry must involve students from Years 4-6.
By submitting a video/radio recording, entrants agree to the video/radio recording being made available for public viewing.
3. Film the video or record the radio ad
Ask your students to design, plan and film OR record a 30-second video OR radio ad that creatively and effectively conveys one or more of the safety messages above.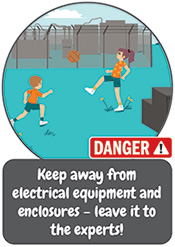 4. Submit your entry form and video/radio ad
Complete the online entry form by following the instructions for submissions to upload your video or radio ad by Friday 23 October 2020.