John Cleland - Appointed 18 July 2016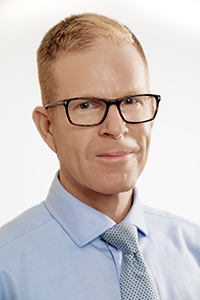 Chief Executive Officer
BEc DipFinMan CA FFin, GAICD
John is an experienced Chief Executive Officer with comprehensive executive and non-executive experience with large and complex organisations in the infrastructure (rail, ports, energy transmission and distribution), resources and logistics sectors.
John is a director of Essential Energy and a member of its Board Regulatory Committee, and a non-executive director of Energy Networks Australia.
John previously held the position of Head of Infrastructure, Coal Division at Anglo American PLC and prior to that he was the CEO of WestNet Infrastructure Group.
Patrick Bossert - Appointed 9 December 2020

Chief Transformation Officer
BEng (Hons)
Patrick is a specialist in digital modernisation of critical national infrastructure services with extensive experience of transformation design and delivery in telecommunications, rail, road, water and energy sectors globally.
Patrick previously held the position of Executive General Manager Digital and Transformation with Ausgrid, having joined from Ernst & Young where he led their Infrastructure Intelligence practice for the United Kingdom and subsequently Australia.
Mike Bowan - Appointed 30 January 2017

General Counsel and Company Secretary
BA LlB (Hons)
Mike is an experienced executive with expertise in commercial enterprise including legal counsel, stakeholder management, risk, audit and compliance.
Having trained as a corporate lawyer, Mike has spent much of his career in the banking sector in senior executive roles, including Chief of Staff at Westpac, and General Counsel and Secretary for St. George Bank Limited.
Chantelle Bramley - Appointed 10 January 2018

General Manager Strategy, Regulation and Corporate Affairs
BEc (Hons), MSc, LLM
Chantelle has worked on regulatory and strategic energy policy issues for almost 20 years with international experience in high ranking positions in the United Kingdom, Canada and the United States.
Chantelle previously held the position of Executive General Manager, Strategy and Economics with the Australian Energy Market Commission and Vice-President, Strategy and Chief of Staff with Direct Energy based in Houston.
Justin Hillier - Appointed 31 October 2016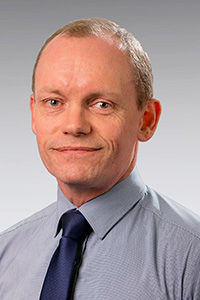 Chief Financial Officer
BBus, CA, GDipAppFinInv, FINSIA
Justin is an experienced executive with expertise in financial management, strategic planning, corporate development and negotiating commercial transactions in energy, mining and finance sectors across Australia and Asia.
Justin previously held the position of Executive Vice President (Acting CEO) with Glencore on the Tampakan Copper-Gold Project and senior commercial roles with global accounting firm, PricewaterhouseCoopers and Tarong Energy.
Luke Jenner - Appointed 1 July 2015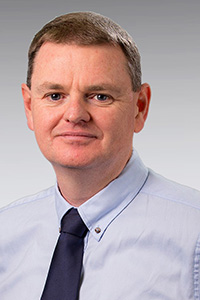 General Manager Customer and Network Services
BEng (Hons), EMBA, GAICD
Luke is an experienced executive with engineering and operational expertise in the energy and mining industries.
Luke has spent much of his career in the energy and mining sectors in senior management roles, including General Manager People and Services with Essential Energy and various Engineering Management roles with DBT (now Caterpillar), a global mining equipment supplier, and Royal Dutch Shell's underground coal division.
Sarah McCullough - Appointed 11 February 2020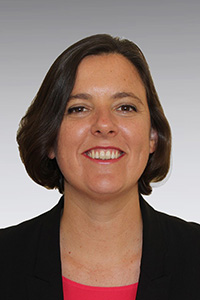 Chief Information Officer
GradCertMgt(InfoTech), MBA(Comp)
Sarah joined Essential Energy in 2018 as the Head of eTech Operations and has been Acting Chief Information Officer since 15 April 2019.
Sarah is an experienced Information Technology ("IT") and Innovation senior leader and certified Organisational Change Manager, with over 20 years' experience in the IT industry.
Sarah previously held the position of Head of Applications at Pacific National and Asciano, an ASX top 50 company.
David Salisbury - Appointed 30 October 2017

Executive Manager Engineering
BEng (Hons), CPEng, EngExec, FIEAust
David is an experienced executive and an accomplished engineer with expertise in gas distribution, and electricity and gas transmission across the United Kingdom.
David has a strong technical background with in-depth commercial and regulatory experience and first-hand knowledge of using technology to enable transformation.
David previously held the position of Head of Network Engineering and Asset Management at National Grid in the United Kingdom.
Craig Thomson - Appointed 20 August 2019

Chief Human Resources Officer
BBus (HRM)
Craig is an experienced executive and human resources leader, having held senior executive and management roles across the maritime, manufacturing, health care, and telecommunication sectors.
Craig previously held the position of Chief Human Resources Officer at DP World Australia, and senior executive roles at Coca-Cola Amatil including the Group Human Resources Manager working with senior HR and leadership teams in New Zealand, Papua New Guinea, Fiji and Indonesia. Craig also held senior management positions with Optus where he managed large-scale organisational design and change.