Media Release

Hydrogen power helping green accommodation
In an Australian-first, Essential Energy is trialling a hydrogen-powered Stand Alone Power System (SAPS) to power a heritage accommodation cottage located on the banks of the Myall Lakes National Park on the mid-north coast of NSW.
Essential Energy is partnering with NSW National Parks and Wildlife Services (NPWS) to determine the best range of high-tech renewable solutions that could power other sensitive environments in our network footprint.
The trial is part of Essential Energy's broader push to provide a viable renewable energy solution, supporting the the move toward a sustainable, low-carbon future, and helping to drive down overall energy prices for all its customers.
"The technology, first developed in Germany, consists of 23kW solar panels, a battery, hydrogen electrolysers and fuel cells and hydrogen storage of up to 20 days (425 kilowatt hours). GreenHy2 (ASX code H2G; formerly Tempo Australia) were chosen to supply this unit due their unique solution which removes the need for back up generators whilst still providing the level of reliability we need", said Luke Jenner, Essential Energy's Chief Operating Officer.
"Since commissioning, and after an initial period of optimising the flows of energy between storage and customer, the performance of the system has met expectations and is delivering reliable power to the Cottage."
The green hydrogen SAPS at Cutlers Cottage uses solar power to convert water to hydrogen, which is stored in a solid state as a metal hydride within a stand-alone modular unit, delivering uninterrupted power to the cottage.
"As well as powering the cottage with zero emissions, the unit improves natural disaster resilience for the Cottage as it isn't reliant on the surrounding energy infrastructure. Significant savings from reducing usual costs associated with managing power poles and powerlines to the Cottage, including vegetation management, will ultimately benefit all our customers," said Mr Jenner.
The Cutlers Cottage accommodation was chosen for satisfying a range of criteria following engagement with NPWS. Acting Coordinator- General, Environment and Heritage of the NSW Department of Planning and Environment NPWS, Atticus Fleming, said, "We're really interested to see the results of this trial and how effective hydrogen will be in removing the nearly 6km of line that travels through dense bushland and over land that is subject to flooding, which will be a huge win-win. For us it means we will have better reliability for our guests and reduced bushfire risk."
Mr Jenner agreed. "This site provides us the opportunity to enhance an important working relationship with NPWS. The site has good access and we already had its load profile at a granular level following previous consultation with NPWS and a neighboring private site (already utilising an Essential Energy SAPS) so it makes a good candidate to measure what the system can deliver in Essential Energy's solution offerings."
While a heritage cottage is a relatively unusual site for an energy trial, it will deepen Essential Energy's understanding and capability as the technology on this relatively new, but high potential, energy source develops.
Mr Jenner said, "This trial is going to equip us with a range of knowledge, including better understanding of best use cases for Hydrogen SAPS, as well as other factors such as site preparation, expected reliability levels, and opportunities to improve our internal skills.
He continued, "We hope the trial, which concludes in 2023, will help us better compare Hydrogen SAPS possibilities to existing SAPS configurations which deploy lithium ion batteries. The trial will also help to identify and mitigate risks and get a feel for what risks and benefits may present."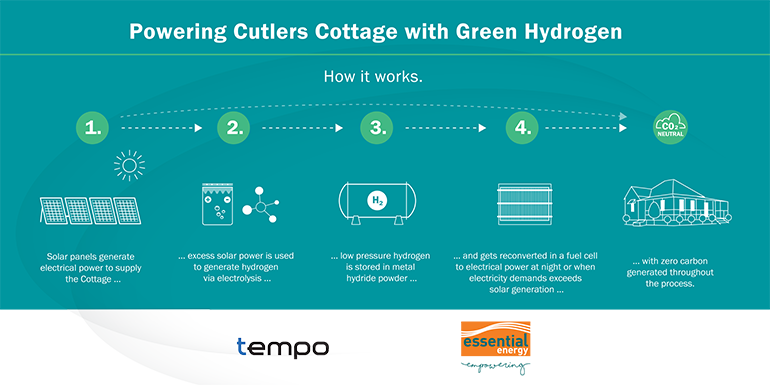 Image: How the Hydrogen SAPS is powering Cutlers Cottage - Click image for larger view