Our people news

Eighty-eight Essential Energy personnel from as far afield as Albury and Dubbo assisted the South Australian community after hurricane-like storms ripped through Adelaide and the Adelaide hills.
In mid-November, wild winds, thunderstorms, rain and 420,000 lightning strikes left more than 163,000 customers without power.
Our crews quickly mobilised and travelled to South Australia with utes, 17 mobile Elevated Work Platforms and a fleet service truck, taking between five and 18 hours to cross the border and arrive at the SA Power Network's depots.
After receiving a Safety Induction, crews got to work with the daunting task of rebuilding the overhead network. Tasks included removing vegetation, re-stringing sections of line, re-hanging service lines, crossarm changes, pole changes and transformer replacements. The construction of the SA network infrastructure presented a new skill for the crews to learn with the majority of their poles being "Stobie" poles, consisting of two steel joists encasing a slab of concrete.
Several senior leaders assisted SA Power Networks with scoping and planning of work, while crews on the ground drew on the specialist skills of Safety Business Partners, Operational Services Managers and fleet team members. Back home, the team's travel arrangements were taken care of remotely by Operations Coordinators.
Crews travelled from 21 depots across the southern and central parts of NSW including - Buronga, Balranald, Deniliquin, Culcairn, Griffith, Leeton, Wagga Wagga, Cootamundra, Cowra, Young, Harden, Boorowa, Goulburn, Crookwell, Queanbeyan, Narromine, Dubbo, Orange, Mudgee, Bathurst, Albury.
Customers, who'd been without power for days in many instances, were very grateful to see Essential Energy, knowing that they'd left their own families and communities that were also dealing with floods and storms. Whole streets clapped and praised the teams on one site when power was restored. Crews from Deniliquin were touched when two little girls handed them a note of thanks, with two roses.
SA Power Networks were also extremely grateful, with the CEO and General Manager Field Services attending toolbox talks to pass on their thanks in person.
Our teams also presented three gift hampers to customers who allowed us to store our heavy fleet onsite overnight.
All Essential Energy teams were proud to support their interstate colleagues and help SA customers in the safe and efficient restoration of their power.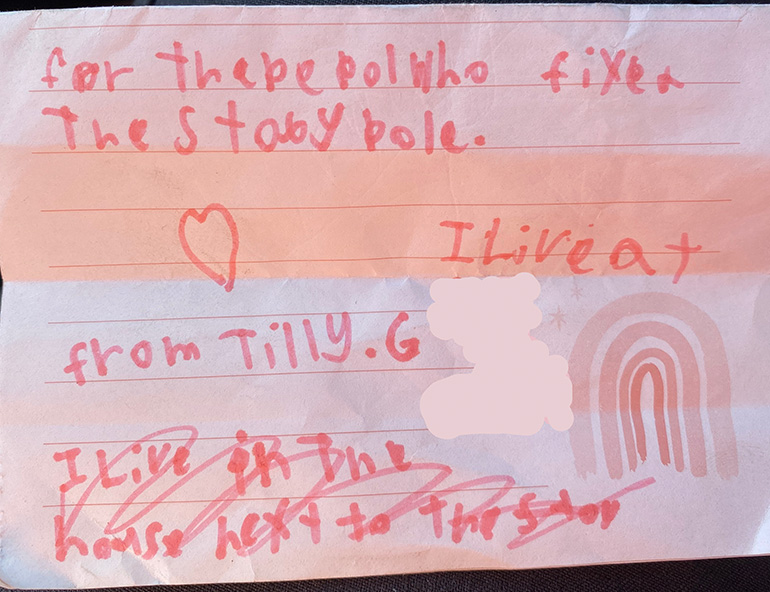 Image: Note of thanks from two grateful children
In this edition
CEO Welcome
Dairy farmers getting value from the sun
Australia's first Hydrogen Stand Alone Power System
Essential Energy embraces climate-related financial disclosure
Global recognition for Essential Energy's Intelligent Digital Design System
Good neighbours